Former captain Javed Miandad is yet to respond to a show cause notice that the Pakistan Cricket Board issued to him for violating his terms of employment, raising the prospects of yet another bitter showdown between the two.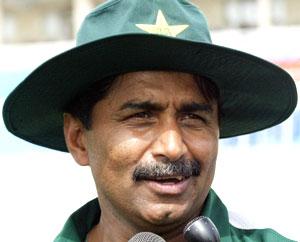 The PCB had issued a show cause notice to Miandad after he slammed the Board's working and claimed that 90 percent of the decisions taken by the authorities were wrong.
Miandad, who is employed as the Director (cricket affairs) since 2008 on a lucrative package, said after closely watching the working of the board, he was convinced 90 percent decisions were erroneous.
His remarks upset the PCB which gave him a deadline of seven days to respond to the notice that expired last Thursday.
"So far we are yet to get a formal response from him to the notice but we will look at the issue on Monday," a senior official said.
Miandad, after getting the notice, made it clear that he had no intentions of responding to it as he was directly appointed in the Board by chief patron -- President Asif Zardari -- and was only answerable to him.
"I will give my explanation to the President when he gives me time for a meeting and I will apprise him of the issues in the board," Miandad had said.
A board official said since Miandad was also a member of the governing board, the PCB hierarchy will have to decide how to deal with his latest violation of his employment terms.
"Normally if someone does not respond to a show cause notice within the deadline than he faces severe punishment but obviously in Miandad's case the board has to tread carefully because of his standing and position," an official admitted.
A source close to Miandad said the former captain regarded the salary and perks given to him by the Board as due reward for having served Pakistan cricket for 35 years.
This is not the first time that Miandad, who has also coached Pakistan team in the past, has publicly lashed out at the PCB working under the Chairmanship of Ejaz Butt who has been in power since October, 2008.