Wednesday, October 5, 2011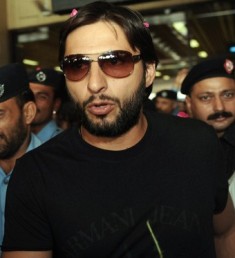 The Highveld Lions revealed their hand in terms of their foreign Twenty20 quota by announcing that they had signed Pakistani internationals Shahid Afridi and Abdul Razzaq for the tournament.
Afridi, arguably the most mercurial cricketer to grace the international stage, has previous experience of the domestic circuit when he turned out for Griqualand West in 2003/04.
Generally, his impact wasn't overly pronounced but lit up the then 45-overs competition with two explosive knocks – a 91 off 63 balls against KwaZulu-Natal and 72 off 32 against Boland.
Ironically that season was the last time Gauteng – the Lions' incarnation before the franchise system – won the limited overs title.
"I'm looking forward to my time in South Africa and helping the Lions qualify for next year's Champions League," said Afridi.
"I had a few offers in SA but have chosen to play in Johannesburg."
It's little wonder there was so much interest in him after he completed a fine English campaign with Hampshire this season, where he took 17 scalps at 11,17 while only conceding 5,5 to the over.
Those brisk leg-spinners of his will be a massive asset for the perennially underpowered Lions bowling attack.
Razzaq was a crucial cog in Leicestershire's title-winning campaign, combining his 263 runs at a strike-rate of 138 with 18 wickets.
South Africans need no reminding of his dynamism after he single-handedly won the second one-dayer against the Proteas in Abu Dhabi last year with a magnificent unbeaten 109 off 72 balls.
That innings featured no less than ten maximums.
"My manager received several offers to play in South Africa," he admitted.
"We made a decision on the Lions due to the fact that I have many friends in Johannesburg and have always enjoyed my time there. I am very much looking forward to giving my all for their cause."
Lions mentor Dave Nosworthy was chuffed with his signings, particularly since he's previously admitted his finickiness in that regard.
"It has been a long road to source the right players but I'm finally confident that we have secured two world-class cricketers," he quipped.
"I have no doubt that they are a perfect fit for the Lions' style of play – plus they definitely match our team chemistry."
The local Twenty20 starts on February 15.
Posted by

ADMIN
at 12:13 AM