Former captain Wasim Akram says it is premature to write off Pakistan's chances at the upcoming World Cup, as they are a dangerous outfit when under pressure.
"Pakistan can be a dangerous team. No one (can) altogether write off Pakistan's chances in the World Cup. They have the capability to do well, but, first and foremost, the captain has to be named. Even Shahid Afridi must be under pressure. The sooner the captain is named, the better for the team," said Akram, in Mumbai , on Thursday.
"But Pakistan has made it a habit of playing normal cricket and well under pressure, but relax when not under pressure," he added.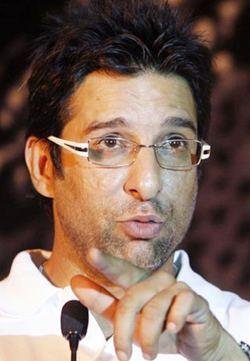 Pakistan is the only team that has not named its captain for the mega-event, as the selectors continue to debate between Afridi and Misbah-ul-Haq for the job.
Akram, who was part of the 1992 World Cup-winning squad, however, gave full backing to Afridi.
"Afridi has been the captain for a reasonable period of time. The World Cup is too close to change a captain. They have come back well in New Zealand , winning two matches after two defeats. It shows that Afridi has the skill. Last year he was the highest wicket-taker and also one of the top run-getters for Pakistan. In my opinion, Afridi should be named Pakistan's captain."
The Pakistani fast bowling legend sympathized with the bowlers as all rules in modern-day cricket are loaded in favour of batsmen, including the latest Powerplay ruling.
"Good luck to the bowlers in the last powerplay overs. It's very difficult. The batsmen have found out ways like employing the short sweep or making room to hit the ball. The bowlers have to learn fast; but what can they learn? Maybe, bowl a yorker-length outside the off stump. They have to practice a lot," he said.
He also joined the chorus of naming India as favourites, but said four-time champions Australia cannot be overlooked.
"I have been saying for a long time that India is one of the favourites. But fitness will count a lot and home pressure is slightly different. I have the experience of playing two World Cups in Pakistan and India, so I know what pressure can be.
"Sachin (Tendulkar) will tell you what pressure is all about when playing at home. Apart from India, Australia is looking good. They have won five games against England . One cannot rule out Sri Lanka and South Africa . Once the quarter-finals is reached, it can be anybody's World Cup," the 44-year-old concluded.