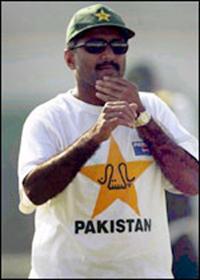 KARACHI

(Reuters) - Former Pakistan captain and top batsman Javed Miandad has accepted an offer from the Pakistan Cricket Board to work as a batting and fielding consultant with the national team before the 2011 World Cup.
Miandad who represented his country in more than 350 test and one-day internationals in an illustrious career joined the team on the first day of a training camp in Lahore on Wednesday set up to prepare for the tour to New Zealand later this month.
"It is a great feeling to be back in cricket gear. Coaching has always been a passion for me and anyway I can help our players, I am always ready," Miandad told Reuters.
Miandad, who is also director general of the board, has three times been coach of the national team before leaving or being told to leave the post in acrimonious circumstances.
The last time he was coach in 2004, the board asked him to step down after a home series defeat against India.
Miandad said he had agreed to work with the players so that the batsmen could further polish their skills.
"It is all about fine-tuning them and preparing them mentally for difficult conditions and situations, they have the talent," he said.
The board has also asked Miandad to accompany the team to New Zealand.
Pakistan tour New Zealand for three Twenty20 matches, two tests and six one-day internationals before the World Cup in India, Sri Lanka and Bangladesh in February and March.