Miandad, who has been roped in as Pakistan's batting and fielding consultant, said that he will try to use his vast experience to help out the country's struggling batters.
"This is the right time for our players to learn a thing or two from us," Miandad told 'our sources' on Wednesday. "We have a week to discuss a few things and work on them before the team leaves for New Zealand," he added.
Pakistan Cricket Board (PCB) wants Miandad to travel with the team to New Zealand for a tour that precedes World Cup 2011 but the legendary batsman doesn't sound much interested in becoming a part of the touring party.
"I think that as batting consultant I can be useful during this camp but I'm not sure whether it would help the boys if I'm with them on the tour. In New Zealand, their focus should be on delivering rather than learning any new things," he said.
There have been reports that Miandad is unwilling to become a part of the team as a full-time batting consultant in order to avoid working under Waqar Younis, Pakistan coach.
According to the reports Miandad, who has served as the national coach on three separate occasions in the past, wants an independent assignment but the Board is adamant that he reports to Waqar.
However, Miandad denied such reports saying that he doesn't have any ego problems. "I've been given a responsibility and would do it for the sake of my country," he said.
Miandad said that too many cooks spoil the broth.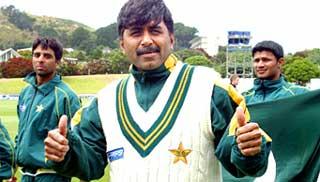 "I don't have any ego problem. Personally I believe that Waqar is the team's coach and he should have authority. I can chip in with my tips on batting, fielding and even wicket-keeping because I have the necessary experience and believe that the boys can benefit from it."
Miandad underlined the fact that Pakistan's cricketers are already playing at the highest level and cannot be taught.
"At this level, all they need is fine tuning," he said. "I and the team's coaches can give them useful advise but at the end of the day they will have to take responsibility. To excel at the international level, you need to work really hard because talent alone cannot guarantee good results.
"The good thing that I've noticed about our boys is that they are keen to learn and that they are training really enthusiastically."
Pakistan are aiming to finalise their preparations for World Cup 2011 which will begin on February 19 on a positive note by doing well in New Zealand.
However, Miandad's advise to the national cricketers is to keep their eyes on the ball.
"I would advise them to just focus on the matches against New Zealand. The World Cup is still quite far away and there is no need to worry about it right now."
Miandad, currently working as PCB's director-general, said that the Board will make all out efforts to help out the team in a bid to raise its performance graph.
"It's our aim to give the players maximum possible help in their preparations for the World Cup."
Most of Pakistan's batters, especially Umar Akmal, have been quite disappointing in recent times but Miandad expects the youngster to bounce back in New Zealand.
"In cricket, there are always ups and downs. But if the lows are coming too frequently then there is a fault," he said. "I believe Umar akmal will regain his form soon. These kids need guidance. I'm pinpointing their faults in the nets and am also working individually with every one of them. I'm hopeful of making a valuable contribution."